Santora "Fred" Iozzo had a vision of creating the American dream for my family. After his birth in Calabria, Italy in 1888 Fred immigrated to the United States of America arriving in the Port of Boston at age 17. After working on the railroads in Boston and Ohio, Fred was naturalized in 1924 and settled in Indianapolis.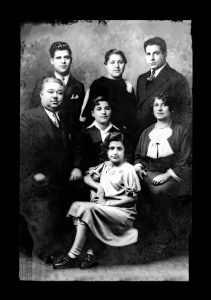 By 1926, Fred Iozzo had a small empire of 21 grocery stores located in the central Indianapolis area. As the Great Depression did to so many proud businesses, the chain of stores was shut down. As economic conditions continued to improve, Fred relied on his background as a chef to build Naples Grill in 1930.
During that time, Naples Grill was Indianapolis' first full-service Italian restaurant and it quickly became very popular, not only to Hoosiers, but also to the travelers who were passing through the Midwest. After a few years of success, the business moved to the corner of Illinois and Washington Streets where he ran the restaurant with his sons Vincent and Dominic.
At that time, the restaurant was renamed Iozzo's Garden of Italy and it continued to be a commercial success. Being one of the largest restaurants in the Midwest with three bars, a banquet room, two kitchens and a bandstand, Iozzo's quickly became the hotspot destination.
On October 24, 1940 an unfortunate incident occurred inside the restaurant and temporarily derailed the hopes and dreams of the Iozzo family. After the closing of the restaurant, the Iozzo family continued to pass down their traditions and recipes.
In July of 2009, Iozzo's Garden of Italy re-opened, with traditional family recipes combined with new favorites. Iozzo's has received awards and recognition from many publications, including "Best New Restaurant", "Best Italian Restaurant in Indianapolis" and has been featured on the cover of "Indianapolis Monthly" magazine. We promise to serve the finest in Italian cuisine and wine and provide an upscale and memorable dining experience to all our guests.